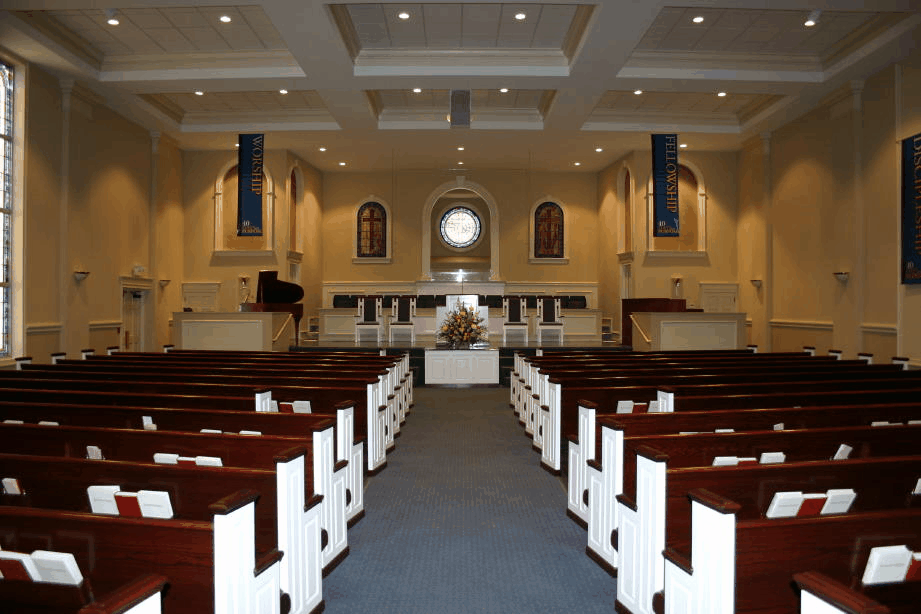 If your place of worship would like to upgrade seating for your community, Kivetts fine church furniture can help you. Whether you are interested in replacing your current pews or bringing them back to their former glory with our church pew refinishing services, the team here at Kivetts is here for you. Our dedicated craftsmen have years of experience designing and building beautiful church pews for churches across the southeast. We utilize the finest materials to provide a product that will stand the test of time. Contact our team today to learn more about our custom church pews as well as other church pew services in Florida. 
Connect with a Project Specialist Today!
Custom Oak Church Pews for sale in FL
Oak is the golden standard when it comes to building beautiful, high quality, church pews. Unlike other church pew manufacturers in Florida, Kivetts uses solid oak hardwood for every aspect of our pews. Each and every one of our church pew ends, bases, backs, and rails are constructed out of solid oak hardwood with beautiful natural grain. We can customize your church pews to match the aesthetic of your place of worship. 
Our church design consultants will work with you to ensure that your custom church pews seamlessly blend into the design of your space. We offer a variety of different stain color options ranging from white colonial to dark oak. The ability to color match your church pews to the rest of your space creates a sense of comfort at your place of worship. Contact Kivetts today to learn more about custom church pews for sale in Florida. 
High Quality Church Pews for sale in FL
When installing new pews in your place of worship it is important to make sure that the seating that you are investing in will stand the test of time. The craftsmen here at Kivetts work hard to ensure that every piece that we produce is built to last. The upholstery on your pews will be double stapled and glued to ensure that the fabric stays in place even after years of consistent heavy use. We pride ourselves on creating church pews that will serve your congregation for years to come. You can expect our pews to last well over 20 years. 
Church Pew installation in FL
Replacing your church's pews is a big decision. Finding a company that will handle everything from manufacturing to the installation of new church pews can save you a lot of time and money. We're happy to offer complete church pew service to all of our valued customers. We realize that churches have other matters to worry about and that it is important to use the congregation's money as efficiently as possible. This is why Florida churches looking for pew installation can trust that Kivett's will handle their project from start to finish as efficiently as possible for the best possible price.
Kivetts Church Pews for sale in FL
Although Kivetts is located in North Carolina, we are happy to build and install beautiful custom church furniture for our friends in Florida. Whether you would like to add a few new pieces to your space, or going for a complete redesign, Kivetts will help you provide beautiful seating for the members of your congregation. Contact Kivetts today to receive more information about our custom church pews and church pew refinishing services. Give us a call or complete the online contact form below. Our friendly team will be happy to help you!
Connect with a Project Specialist Today!