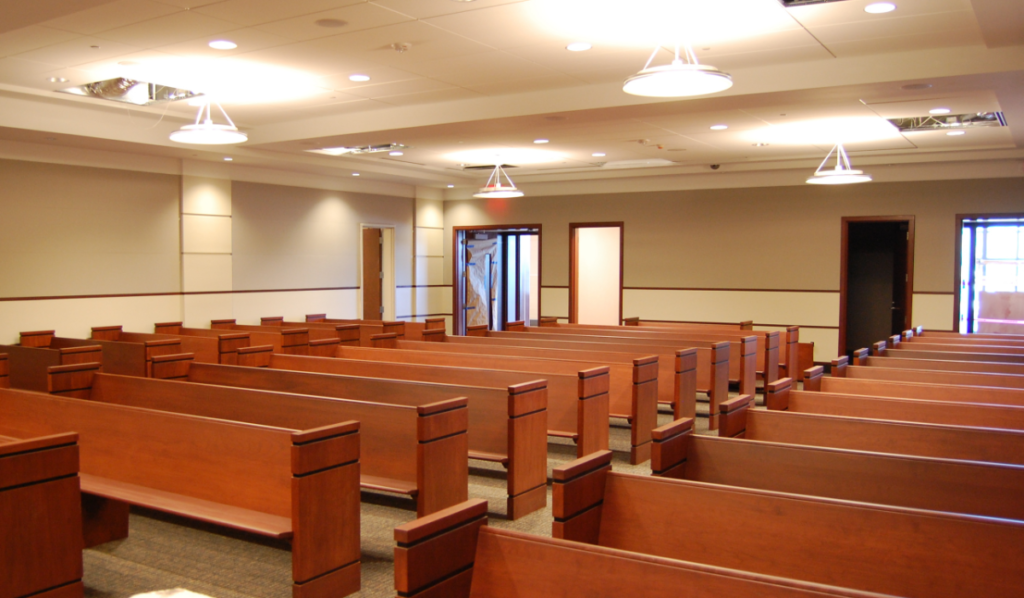 As a courtroom furniture manufacturer providing courtrooms with solid wood furnishings made from the finest woods available since 1958, we place pride in our commitment to each and every customer to manufacture only the highest quality furniture with incomparable personal service. We are proud to offer a product that is manufactured in our plant located in Clinton, North Carolina, United States of America.
As a manufacturer, we produce courtroom seating that includes chairs, benches and additional furnishings. We have a premier selection of bench styles, end panels, accessories, fabrics and wood finishes for your selection. All of our fabrics have been specially treated with "custom backing" and a stain resistance coating which provides additional years of service. We can modify our designs to suit your specific needs or provide custom designed seating. All of our furnishings are offered in a broad selection of standard finish colors, with custom stain match also available. We produce custom millwork, Judge's Benches, Jury Screens, Railings, Corridor Benches and accessories. Our team can also refinish and reupholster existing seating and have an excellent restoration division. At Kivett's we have the ability to replace and duplicate hardware/items that have become broken or worn over years of use. We are the largest refinisher in the United States and have over sixty years of experience in building and restoring furniture.
Our team also offers a courtroom maintenance program. We arrive on site and tighten any anchor bolts that have loosened, touch-up scratches and make repairs. As a custom manufacturer we have the ability to make parts that can match your existing missing or broken items.
SPECIFICATIONS & DESIGN
Our CAD (computer aided design) department works with your builder or architect to provide assistance in maximizing your seating capacity and ensure that the furniture will fit your building. Our representative will take field measurements, review your existing blueprints and produce a detailed set of seating options for your review. 
Interested in learning more about our custom courtroom seating options? Call us at (800) 334-1139 or contact us online to speak to a member of our team about your project needs!