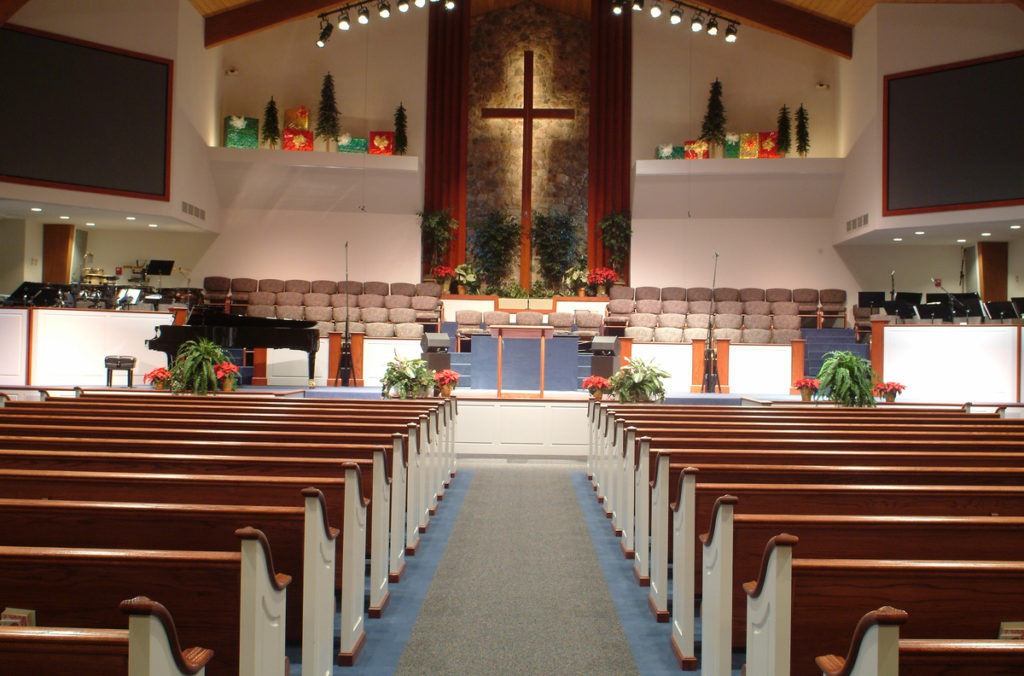 Making sure that your church in Georgia has sufficient seating is essential. If you are looking for high quality oak church pews for sale in GA, Kivetts fine church furniture can help you update your space with beautiful seating solutions. With a wide variety of styles and upholstery to choose from, Kivetts can help you give your place of worship a face lift. Our products are hand crafted and designed to stand the test of time. The craftsmen at Kivetts are dedicated to producing beautiful, high quality, pieces that will be able to serve your congregation for a lifetime. Whether you are seeking new pews to replace the current seating at your congregation, or looking for a church pew refinishing service to bring your current pews back to life, Kivetts can help you. 
If you would like to schedule a consultation with our design team, please give us a call or fill out the online contact form below. We will be happy to answer any questions you may have about our church pew designs and services. 
Continue reading below to learn more about church pews for sale in Georgia.
Connect with a Project Specialist Today!
Pews For Churches in GA
Providing comfortable seating for the members of your community is important. Traditional oak church pews provide a durable and aesthetically pleasing seating solution for places of worship. The look of church pews in your church are as important to the look of a traditional church setting as stained glass or an ornate pulpit. Kivetts fine church furniture designs and creates beautiful custom church pews that are constructed out of the finest materials available. Our church pews utilize the natural grain of the hardwoods to create beautiful pieces that will provide beautiful seating for your church for years to come. Our pews incorporate beautiful custom upholstery that will seamlessly blend into the interior of your church. The team of church interior design experts here at Kivetts will be happy to help you design gorgeous custom church pews that will refresh your space. With plenty of color and design options to choose from, we can help you find the perfect church pews for your congregation in Georgia.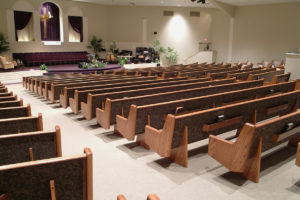 Church Pew Installation in Georgia
Not only will the talented craftsmen at Kivett's Fine Church Furniture help you design pews that will both look beautiful and function flawlessly in your space, we will also come to your church and install your new pews. Our team will ensure that the pews are properly installed and maximize seating and comfort in your space. If you are replacing old pews we will be more than happy to remove the existing pews before we install your new custom designed pews. Our professional installation process will ensure that the seating in your church is uniform and organized so that the members of your community will enjoy comfortable seating for years to come.
While Kivetts fine church furniture is located in Clinton, NC, we are happy to help our friends in Georgia update their space with beautiful custom oak church furniture. The craftsmen at Kivetts design and build the highest quality church pews available anywhere. Not only are Kivetts church pews built to last, our experienced designers will help you design custom pews that will match the interior of your place of worship. Church pews go beyond just providing a place to sit, they also contribute to the aesthetic of the church and the overall worship experience. If you are interested in designing custom church pews in Georgia, contact Kivett's fine church furniture today. Give us a call or fill out the online contact form below to get in touch. We can't wait to help you update your church with beautiful new custom oak pews. 
Connect with a Project Specialist Today!