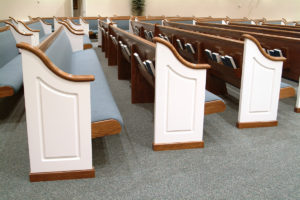 When people walk into a sanctuary, one of the very first things most people will notice is the feel of the space. From the lighting to the pews, each and every detail has been thought out and planned. At Kivett's Fine Church Furniture, we are happy to be a part of this planning process. We have a deep understanding of the importance of finding high quality church pews for your community. When it comes to church pews for sale in Arkansas, Kivett's can help you. Whether you are renovating your sanctuary or simply replacing a few pews here and there, let our professionals at Kivett's help you. Our team is happy to walk with you throughout this entire process and help determine which church pews will work seamlessly with your church or sanctuary in Arkansas. 
High quality church pews for sale in Arkansas


At Kivett's, our friendly and knowledgeable team is more than happy to help you make the important decisions that will have a big impact on the aesthetics of your church. We are proud to offer churches high quality church pews that will stand the test of time. At Kivett's Fine Church Furniture, we are honored to say that our craftsmen build our pews with solid oak hardwood which offers superior durability compared to the manufactured woods used by many other church pew manufacturers. These solid Oak pews are built to last a minimum of 25 years, and we have established themselves as the golden standard when it comes to durable and beautiful church pews in Arkansas.
Custom church pews for sale in Arkansas
Along with a quality and top of the line product line, Kivett's is also confident in our customer service and care for our clients. We understand that when a church works with us, they are trusting us to provide their congregation with a durable product that is as comfortable as it is beautiful. Our skilled and professional team at Kivett's is committed to making your place of worship the most beautiful space possible. Along with our commitment to quality, Kivett's is also confident that you can have the exact pews that you want for your worship space. With the ability to customize every aspect of our church pews, your sanctuary's pews can be designed specifically to fit your space and provide beautiful seating for your community. From pew ends to upholstery options, you ultimately have the freedom to choose at Kivett's Fine Church Furniture. 
Kivett's Church Pews in Arkansas
Kivett's Fine Church Furniture is proud to provide customers with custom church pews that are as beautiful and comfortable as they are durable. If you are interested in upgrading the seating in your church in Arkansas, contact Kivett's Fine Church Furniture today to learn more about how our team can help your church design and install beautiful new seating in your church. Give us a call or fill out the online contact form below to get in touch with one of our church pew experts today. We will be more than happy to provide you with more information and answer any questions you may have.
Connect with a Project Specialist Today!