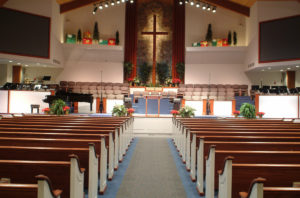 Finding quality craftsmanship and attention to detail can be difficult in this day and age. If you are looking for a company you can trust that will provide your church or sanctuary with top of the line pews made of premium woods and finishes, look no further than Kivett's Fine Church Furniture. Since 1958, Kivett's has been providing our communities with solid wooden pews that are designed to stand the test of time. Using natural and traditional elements paired with innovative modern equipment, Kivett's has perfected the art of making church pews that will serve your community for decades. The quality of work that comes from our craftsmen is simply incomparable. Whether you are replacing only a few pews at a time or you are doing an entire sanctuary renovation, our team at Kivett's FIne Church Furniture is ready to help you! 
High quality custom church pews for sale in MS
Our handcrafted church pews are built to last for a minimum of 25 years and can be tailored to your specific sanctuary space. Materials ranging from stain color to upholstery fabric can be customized to create church pews that will seamlessly blend into your space. Our team at Kivett's gives you the ability to customize church pews to update your place of worship. Along with assisting with the design of the pews themselves our team can also help determine the logistical aspects of your sanctuary. This would include things like how many pews would be appropriate in your worship space, the length of each pew, and the spacing between pews. When it comes to sanctuary configuration, our professionals have seen a thing or two. Let us help you create a comfortable and functional space for your congregation in Mississippi.
If you need assistance determining what type of wood and finishes would be best for your new pews in your worship space, our team at Kivett's would be more than happy to help. Our team will glady assess the space and help you design church pews that will complement the interior of your church. If at any point in time your church pews need repair of any kind, our team of skilled repair technicians would be more than willing to assist you with any pew refinishing and reupholstering efforts you may need. 
Kivett's church pews for sale in MS 
At Kivett's Fine Church Furniture, we are committed to not only provide you with premium church pews, we are also committed to delivering exemplary customer service and care. We realize that furnishing a sanctuary with quality pews is an investment, and our team at Kivett's is committed to designing and creating lasting products that will serve for generations. If you are interested in looking at new church pews for your sanctuary, call our fine church furniture professionals at (800) 334-1139 or fill out the online contact form below. One of our friendly team members will be happy to work with you and help you refresh your space with beautiful new church pews in Mississippi. 
Connect with a Project Specialist Today!