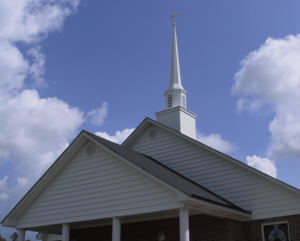 What material are church steeples made out of?
Church steeples have been a major point of architecture for centuries. Typically they are the most eye-catching part of a church and naturally cause the viewer's eyes to look upward toward heaven. While the steeple can be built beautifully, its main purpose is to help people know where to find refuge and safety.
Historically, most buildings, including churches and their steeples, were made out of wood. Over time, building materials have evolved and have been specialized. We are often asked what our steeples are made out of, and many people expect them to be made out of wood as they have been historically. However, at this point in time, most church steeples are made of fiberglass which provides a more sturdy and durable construction that will last for years and be more resistant to wear.
Benefits of fiberglass church steeples
Making the switch to fiberglass from wood for steeples was a huge improvement both structurally and visually. For example, the weight of a steeple is very important, as the church structure needs to be able to support it. Fiberglass is rather light material and doesn't put as much pressure on the structure of the building, yet is sturdy enough to withstand the elements. Additionally, the use of fiberglass can portray a seamless view. The porcelain-like finish looks flawless and uniform. It would be a great addition to any place of worship to help guide people looking for refuge.
Shop fiberglass church steeples at Kivett's
At Kivett's we have been manufacturing quality church steeples for over 60 years and we continue to grow. We are here to help you customize your place of worship with the steeple that it deserves. Feel free to visit our website to see some of the templates we have to offer. Looking for a custom design? We are happy to work with you to design the steeple for your place of worship. No matter the size of your property, we will work with you to find the best option and provide hassle-free installation. Give us a call today and we can get started on something special.
Connect with a Project Specialist Today!