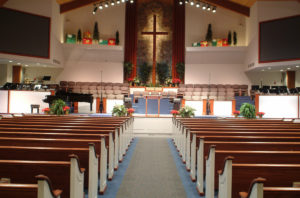 At Kivett's Fine Church Furniture, you will find our dedicated staff and experienced employees are committed to making every sanctuary the most beautiful sanctuary possible. Both our products and workmanship are the highest in the industry and our commitment to maintaining this quality is matched by none. Whether you need to renovate your entire sanctuary pew by pew, or simply repair a single pew, Kivett's Fine Church Furniture will work to please both the church staff and the congregates. Contact our team to learn more about our custom designed church pews and project options.
Connect with a Project Specialist Today!
Custom Church Pews For Sale in NC
At Kivett's, our oak pews are custom designed and locally constructed from red oak wood. Unlike some lower-end pew brands, the entirety of our pews are solid Oak. Pew ends, bases, and back rails are oak, and the seat is reinforced underneath to give strength and long-lasting support to the pew cushions. All foam seats and pew back covers are tightly glued down to eliminate any possible fabric slippage. Additionally, the high-quality fabric used to cover the seating is stapled twice to make certain it remains tight and in place despite repeated and frequent use. With these measures we use to ensure the very highest quality pews, you should fully expect your new Kivett's pews to last at least 25 years.
Oak Church Pews For Sale in NC
At Kivett's, we have the highest standards on church pew materials and construction to give you rows of pews that can stand the test of time. We take pride in using solid oak and only the finest upholstery to craft a perfect pew for your church communities' needs. Depending on your church's look, we may recommend a white colonial, a dark oak, a light oak, or one of the many stain options in between. Looking to brighten up a more traditionally dark sanctuary with lighter upholstery? We have you covered with many fabric swatches available upon request for you to choose from.
Church Pew Refinishing in NC
Refinishing church pews can be a cost effective alternative to replacing your existing church pews entirely. During our church pew refinishing process, we will refinish the wood structure of your church pews as well as reupholster the cushions on the seat and back. Once the process is complete your old church pews will look as good as new and be ready to serve your community for decades to come. If you are interested in church pew refinishing in North Carolina, give us a call or fill out the online contact form on this page.
Shop Kivett's Church Pews in NC
If you are looking to have custom solid oak church pews built to your specifications, with a wide choice of fabrics and finishes, our team is the right fit for you. Your church will have the style of pew that best suits its sanctuary and your congregation. For more specific customization and pricing quotes, please contact our team here. We cannot wait to help bring your vision to life and provide you with the type of customer service and quality that our legacy is built on.
Connect with a Project Specialist Today!